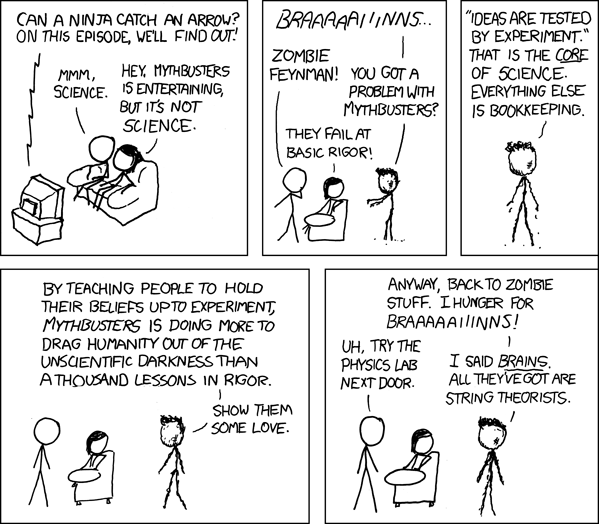 Welcome to the Physics Anti-Crackpot Blog.
I am a professional theoretical physicist, and recently, there has been more and more attention paid to speculations about science that are simply wrong. a.k.a.
Crackpot theories
. There are many reasons for this. One is the ease of communication that the internet provides. Another is the highly speculative direction that theoretical physics has taken over the last 20 or so years. More and more often I am approached by people who are misinformed, or I see articles in the press about unscientific things. It is my goal to correct some of these mis-perceptions. There is an accepted channel for new ideas. Write up your idea as clearly as you can, and submit it to a journal for peer review. Anyone can do this. Avoiding this procedure and going to the media, courts, blogs, or forums is a means to hide among people who don't have the training to evaluate your idea. An idea could never be proven in such circles. Come to the experts instead. Submit to a journal.
Historically, physicists have tended to ignore the "crackpots" and obviously-wrong theories because there was little to be gained by addressing them. There always have been, and always will be people with plenty of interest, but lacking the training to make a contribution to physics. Frankly this is sometimes where great advances come. Far-out ideas should not be dismissed without very good reason, or we would never have any new theories or scientific revolutions. Indeed, papers occur regularly by "real" physicists which could easily be classified as crackpot. I might even have written one. I think people with lots of interest should be encouraged. But, they need to realize exactly what science
is
. When untrained people read scientific articles, it sounds like a lot of gibberish strung together. It must be tempting to string the gibberish together in a slightly different order and claim it as a new idea, and many people do that (in fact, people may have
received Ph.D.'s doing exactly that
).
But science is not strings of gibberish prose. It is a
method of making predictions
. Making predictions and testing them is the best method mankind has ever devised to determine what is true. If you have a great new theory, it's exactly as great as the number of new things it predicts, that can be tested.
Science is prediction, not explanation.
The prediction must be quantitative, and the test must be performable in the near future. Theories which predict never-before-seen catastrophies are just as bad as theories which could only be tested by a particle accelerator bigger than the galaxy.
Of course, a good predictive theory also contains an explanatory description. Nonscientific explanations generally are all explanation and no prediction. Consider the widely held belief from not so long ago that lightning was the hand of God, striking down people who were evil. In hindsight, one can always come up with an explanation for lightning striking someone's house. But this was never predictive. It could never tell who would be striken next (and lightning strikes used to be much more common). This all changed when Benjamin Franklin invented the
lightning rod
. Now this was truly predictive -- one can predict that with a good lightning rod on top of a building, it will not be struck by lightning, no matter how evil the activities inside are perceived to be. Of course many people still believe things in the physical world to be decided based on how good or bad they are, depending on their religion, but this never has been, and never will be predictive, and is not science.
Part and parcel of the "making predictions" part of science is
falsifiability.
A physical theory must be capable of being proven false. Unfortunately, most of theoretical physics nowadays has forgotten this fact, and we routinely play with theories that can be modified to survive any experimental test. Indeed, some physicists think falsifiability is actually a drawback for their pet theory (because then their pet theory may die). But who wants to live their entire lives with a pet theory, and never know if it is actually true? This modern trend in physics has, I believe, emboldened untrained but interested people to espouse their unpredictive pet theories. Theories which are unfalsifiable because we're too terrified to perform an experiment are just as bad as ones which require technology that can't be envisioned anytime in the forseeable future. They're unscientific and should be ignored in favor of theories which can be tested.
There are three types of "crackpot" ideas. The first is from professional physicists with some gap in their knowledge. The second is from interested but uninformed non-physicists. And the third is from people with some minor psychosis, and want to be associated with physicists or be famous. In any of the three cases, the person may be immune to logical argument. Many of the "crackpot" things I read do not have sentences which follow any grammatic structure, much less an argument which follows any logic. These must simply be ignored, because there is no way to use logic to argue with an illogical person. Unfortunately some people have discovered that they can
file lawsuits
to get attention. I don't think these people are malicious, and probably truly believe that they may save the world. But, they are misinformed and I hope to change that.
The interested but untrained, and professional physicists are the target of this blog (and perhaps anyone who might get caught up in uninformed arguments about the end of the world). Interested people must always be encouraged. They are more capable of understanding what we do than the rest of the public. Sometimes, they follow their interest, enter a Ph.D. program, and make valuable contributions. They may communicate with their friends and family why physics is important and therefore are a valuable asset in communicating with the public and governments. After all, the citizens pay our salaries and they deserve to be kept informed.
I encourage you to ask questions and post comments (thought they will be moderated). If you find a news report, blog post, or even real physics article you think is questionable, email it to me and I'll do my best do debunk or confirm it, or find a colleague who can. Also if you're a physicist (or otherwise sufficiently knowledgable), I welcome unsolicited debunkings for this blog. You can submit things to anticrackpot@gmail.com.